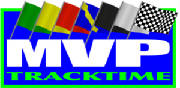 MVP Track Time Rules
Remember: This Is Not a Race
We don't want to over complicate what should be a relaxed and fun atmosphere, but we do need some guidelines for each event. Here are the basic rules we adhere to for our track days. Any questionable issues will be left to the prudent judgment of MVP Track Time, the instructors, and/or the track stewards.
All helmets must be SA2015 or newer.
This is absolutely non-negotiable. You can find the helmet rating by looking under the inside padding of your helmet. Please don't show up with an older SA helmet or motorcycle helmet expecting to drive. You will not be allowed on track without meeting the helmet requirements. If you need an SA2015 or newer SA2020 helmet contact MVP Track Time's official safety supplier, Northstar Motorsports at
https://www.NorthstarMotorsports.com
What's your head worth?

Driver's Meeting
All drivers must attend the driver's meeting before each track day. If you are late and miss the driver's meeting you will NOT be allowed to drive that day. There are no exceptions or excuses that will change this. The important meeting sets the tone for the day. Any driver who misses the driver's meeting and thus can't drive, will NOT receive a refund for that day.

Convertibles must have a roll bar which passes the broomstick test or have a hard top in place.
Unless the maufacturer's owners manual says your convertible will support itself by the windshield frame in the event of a roll over(ala: Porsche Boxster and Honda S2000), your convertible needs a roll bar. The broomstick test reveals clearance for your helmet clad head while sitting in the driver's seat with a broomstick" (or similar device) set atop the roll bar and the windshield frame. Your helmet clad head must have clearance under the broomstick. Personally with any convertible, or hard top for that matter, a roll bar is a good idea even with a convertible hard top in place.
SEE THE REGISTRATION PAGE FOR CONVERTIBLE REQUIREMENTS
Clothing Requirements While Driving.
All drivers must wear at least a long sleeve cotton shirt and long cotton pants while driving on the track. Cotton offers limited protection in the event of a fire and unlike some man made fabrics (nylon, polyester, etc.) it doesn't stick to your skin in the event of a fire.
You may want to consider a flame retardant racing suit from a reputable manufacturer if you plan on doing more track days. The investment, like a good helmet is minimal and can save your life.
Front Windows Open While On Track.
In the event you have an accident and the safety crew is dispatched, it is very difficult to retrieve a driver from a car with the windows rolled up. Keep the front windows rolled down while on track. In the event of inclimate weather (rain), we may allow windows up (track specific). This will be determined at the mandatory drivers meeting before each track day.
Passing Rules.
Advanced Run Group

Passing is allowed on designated straights and in designated turns with a point bye.
Novice and Intermediate Run Groups

There is no passing in the turns. You can only pass another moving car on the track with a waive bye OR if we have bad weather we MAY allow the use of turn signals (track specific) instead of the point bye.
Yes, we know there are slower drivers who forget to give the waive bye and you can pass them allowing plenty of room on the left side but only on the straights. Use your good judgment. If the track stewards see repeated offenses of ignoring blue flags (the flag waived at slower cars about to be passed), the offender will be black flagged.

Guests Are Welcome.
Guests are welcome to enjoy rides (not drive) with each paying driver in the Advanced or Intermediate run groups (sorry not the Novice group) as long as your guest(s) meet the age requirements (18) of the track and have a helmet meeting MVP Track Time's requirements. MVP TRACK TIME DOES NOT CHARGE FOR GUESTS!


If You Go Off-Track.
If you have an "off" while driving on track, there are consequences. These are listed below.


First Off: Come into the pit out and visit the track steward. You will be allowed to finish the session.


Second Off: Come into the pits, visit the track steward who will tell you to park it for the rest of that session.


Third Off: You are done driving for the day.
| | | |
| --- | --- | --- |
| | | |
| | | |
| | | Official Fluids of MVP Track Time |